Fall is Coming - Get Ready to Hike at Kennesaw Mountain - Live within Walking Distance to Top Trails at Mountain Walk

Fall is Coming – Get Ready to Hike at Kennesaw Mountain
Hike or run our favorite trails at Kennesaw Mountain National Battlefield Park near Atlanta. Explore the mountain's Civil War history, climb to stunning summit views, and explore a rolling, rocky forest on more than fifteen miles of the mountain's best trails.
When you choose your new home at Mountain Walk , live right across the street from Kennesaw Mountain National Battlefield Park with over 3,000 acres and 25 miles of well-maintained hiking trails. Explore the Civil War-era battlefields including some of the best scenery in the state of Georgia and you will discover why it is the "Most Visited" battlefield in the entire National Park System. Not only do you have direct access to Kennesaw Mountain, you will be connected to miles of Cobb County walking trails connecting to Downtown Marietta, Kennesaw and beyond.
Kennesaw Mountain: favorite hikes from AtlantaTrails.com
Hikes vary in difficulty and in length. They're all uniquely different and fully worthy of a day hike or trail run. Catch views of the Atlanta city skyline from the mountain's summit, visit Civil War memorials and monuments, and trek through gently rolling, stream-filled forests. Wherever your adventures take you, please help preserve the history and beauty of the mountain's trails, battlefields, and summits.  See full article
Battlefield Trail |11 MILE LOOP – Hike this epic eleven mile loop to stunning summit views from Kennesaw and Little Kennesaw, across grassy, open battlefields, and through rolling forest. From meadows to soaring summits, this 11-mile adventure explores the mountain's beautiful, diverse terrain. VIEW TRAIL INFO & MAP
Cheatham Hill and Kolb Farm Loop Trail |5.8 MILE LOOP -This popular trail run departs Cheatham Hill, the site of a bloody battle, exploring beautiful meadows and a stream-filled forest and visiting the Kolb's Farm battlefield before looping back to to the trailhead. It's a great, scenic, just-under-10k run, or a mid-distance, beginner-friendly hike. VIEW TRAIL INFO & MAPS
Environmental Trail |1.35 MILES -The Environmental Trail explores the mountain's lower elevations on a kid-friendly loop. Nine illustrated signs explain the surrounding forest ecosystem as the trail explores a rocky slope, trickling creek, and diverse forest. VIEW TRAIL INFO & MAPS
Mountain Walk is Everywhere You Want to Be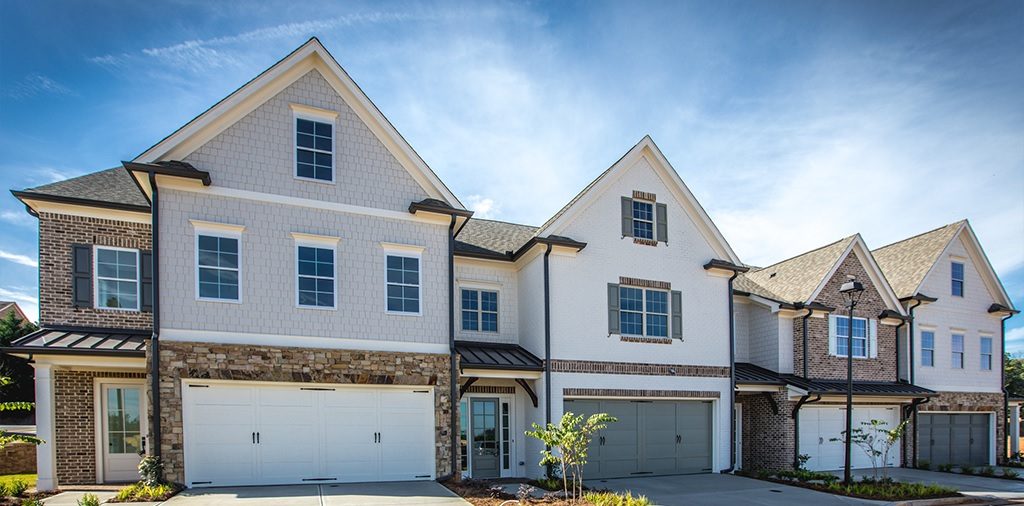 Kennesaw Mountain National Battlefield Park and Cobb County walking trails connect you to nature's bounty. Just down the road, you can enjoy the city life while living minutes from Downtown Marietta, Town Center Mall and all major grocery stores. The Barrett Parkway commercial corridor offers every retail/shopping opportunity imaginable. With easy access to WellStar Kennestone Hospital and I-75, living in a Mountain Walk Townhome puts you in the center of life in Cobb County.
Each home has been created with exquisite and unique features. Created with the highest quality engineered components available, Mountain Walk is designed for low maintenance, low energy requirements, high value and high future resale. Cornerstone Associates is known for developing and building some of the highest appreciating homes in Cobb County. The features are timeless and will be popular for many years of enjoyment.
Cobb County Schools
Schools are important when choosing your new home.  If you are considering the Cobb County area, consider this:
Kennesaw Mountain High School is rated 8 out of 10 in Great Schools.org and with a graduation rate of 83% and a college readiness scoring 9 out of 10. Be sure to check out these fine schools for your children's future. Cobb County schools are rated among the highest in the State of Georgia. Mountain Walk is served by Hayes Elementary, Pine Mountain Middle, and Kennesaw Mountain High.
Luxury Townhomes from the $400's to the $500's
Sales Hours are Monday-Saturday 11am – 6pm; Sunday 1pm – 6pm; Thursday & Friday by appointment only.
GPS Directions:  1718 Old 41 Hwy NW, Marietta, GA 30060 or Get point to point directions here